eBusiness Suite
Home
Business
eBusiness Suite
Save Time and Reduce Costs!
Bring ease and convenience to your business finances with our eBusiness Suite of products! All of these tools are designed to help you save time, provide enhanced capabilities and reduce costs. Plus, our eBusiness Suite tools are all protected by industry-leading security to ensure your financial information is safe.
eBanking
Your time is precious, let us help you make the most of it! With eBanking, you can manage your business's finances without leaving your office.
View current account balances
Track transaction history
Transfer funds across your accounts
Set up Account Alerts
Account information can be exported for use in Intuit® QuickBooks or Quicken, Microsoft® Money or Excel
Enrolling in eBanking
In order to access your accounts online, you must first contact Time Federal Savings Bank to activate eBanking. Please call 715-422-1100 during business hours and request activation. You will not be able to log on until you have been activated.
Watch our eBanking Video to see all the great time-saving features of Online Banking for your Business!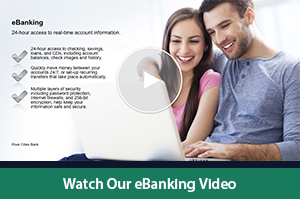 eCorp Cash Management
Devote more time to running your business with eCorp Cash Management! This suite of tools allows you to manage your finances more efficiently. Take advantage of Online ACH Origination and Direct Deposit to reduce the number of trips to the bank, streamline your recordkeeping efforts and reduce time needed in accounts receivable and payable.

Watch our eCorp Video to see how you can benefit most from eCorp Cash Management!
Remote Deposit
Save time and money with Remote Deposit! With Remote Deposit, you can deposit business checks by simply scanning them, meaning you eliminate the need to run to the bank or pay courier fees to make your deposits. Remote deposit also protects your deposits with enhanced security and fraud protection and allows you access to your deposited funds faster.
*Deposits made after bank hours and on weekends are processed the following business day.
Watch our Remote Deposit Video to see how Remote Deposit can give you hours back over time!
Business ePay Center
Pay bills with ease! With our ePay Center, you can make multiple bill payments, set up one-time and recurring payments and create automatic bill reminders all from your eBanking Account. Your payments clear faster than waiting for payments to arrive by mail, and emailed bill reminders ensure you never miss a payment!
Watch our Business ePay Video to see how your business can make paying bills simple!
To enroll in Business ePay, please contact Eric Kundinger at 715-422-1100 or via email at [email protected]
eStatements
Simplify your business finances! With eStatements, all you have to do is login to your eBanking account to access the last 18 months of statements. You can easily download statement data into your financial software, and our industry-leading online security ensures your statements are safe, reducing the chances of fraud or ID theft from a paper trail.
To enroll your business in eStatements, follow these steps:
Sign into eBanking
Click on Helpful Links in the upper right hand corner and select eStatement Enrollment.
In the top Information box, click on eStatement Enrollment Form.
Print this form, fill it out and return it to your local Time Federal Savings Bank branch office.
If you are a current eCorp user, please contact Eric Kundinger to have your accounts enrolled in eStatements.
Watch our eStatements Video to see how you can take advantage of eStatements!
Mobile Banking
Easily access your accounts from wherever you are with Mobile Banking! Using our Android or iPhone app, you can check balances, transfer funds* and complete other functions just like you can in your Online Banking account.
Additionally, you can also use Mobile Deposit to deposit business checks without stopping by our office. Simply tap, snap and make your deposit!
Enroll today for Mobile Banking!
In order to enroll in Mobile Banking, you must be an eBanking user and complete your enrollment on a computer. After you log into eBanking, click Helpful Links in the upper right-hand corner and choose Mobile Banking Enrollment.
*Additional fees may apply. Message and data rates may apply.
Watch our Mobile Banking and Mobile Deposit Videos to see how Mobile Banking and Mobile Deposit can benefit your business!
Credit Card Processing
Expand payment options for your customers! Our credit card processing services ensure your point-of-sale system processes most major credit cards. This helps expand your customer base and quickly settle payments.
Contact us to learn more about Credit Card Processing and how it can help your business!
Trusteer Rapport®
Take your online security to the next level with a free download of IBM® Security Trusteer Rapport®! Using this tool will help you prevent fraud and feel protected while using our online banking services.
How Does Trusteer Rapport® Work?
When you have Trusteer Rapport® downloaded to your computer, it acts as a filter that removes any existing financial malware from your computer. It also prevents financial malware infections and phishing attacks. Trusteer Rapport® is quick to install, doesn't slow down your computer and automatically updates in the background to ensure you stay protected at all time.
Downloading Trusteer Rapport®
You can start the download process by clicking the button above. You can also log in to eBanking where you will be prompted to download from a splash page, or from the link on the right-hand side of your eBanking screen.
You know you have Trusteer Rapport® installed when a small green Trusteer Rapport® icon appears in your browser's address bar. When it's green, you're protected; when it's gray, that means the site you're on is not a Trusteer Rapport® protected website.
For more information on Trusteer Rapport®, watch the video above or visit IBM's Trusteer Report information page.
Telephone Banking
Never be separated from your accounts! Telephone Banking offers another way to access your accounts and conduct certain banking functions when you don't have an internet connection.
Simply call our Bank-By-Phone number at 1-888-700-8755 to check balances, review recent transactions, transfer funds between accounts and more!
Telephone Banking is free with any of our deposit accounts and is available 24 hours a day, 7 days a week. You must be activated for this service, so please call us or stop in today!
Calculators
Calculators
Make a plan! Our library of financial calculators helps you plan for a mortgage, college savings and nearly any part of your financial life.
Fraud & Security Center
Fraud & Security Center
Keep your finances safe! Get all the information you need to protect against fraud, identity theft and corporate account takeover.
Switch Your Bank
Switch Your Bank
Ready to make the switch to Time Federal Savings Bank? Our online switch kit is the first step to seeing what true community banking is all about!