Fraud and Security Center
Home
Fraud and Security Center
Information to Protect Yourself and Your Family
Nothing is more personal than the money you earn or save for the future. At River Cities Bank, your financial safety and security is our top priority. Our Fraud and Security Center offers practical tips for your personal finances, as well as advice for business owners.
Fraud Prevention
Spoofing
Spoofing generally comes in two forms: emails and websites. Spoofed emails appear as though they are from a legitimate source, such as River Cities Bank or a credit card company. It may look like a legitimate email, but the purpose is to get you to click a link that takes you to a spoofed website. Again, it may have the right colors and logo to match the company's brand. However, the website's purpose is to find ways to get into your computer to find personal or financial information.
Phishing
Phishing is the act of using a spoofed email and website to trick you into offering up confidential information. In emails, this may be phrases like "We need you to confirm your account number" with a button or link to click. Doing so may give the criminals access to your computer to be exploited.
Pharming
Pharming occurs when criminals redirect website traffic from a legitimate website to a spoofed website that looks exactly like the legitimate company website. This is done to trick users into entering personal or account information that can then be used by criminals to open accounts in your name or steal your money.
Vishing
Vishing attacks are focused on getting you to provide personal information over the phone through voice calls or through your phone's Internet browser. These calls are often automatic voice greetings that try to trick you into providing your debit card or bank account numbers.
Tech Scams
Tech scams usually involve a phone call claiming to be a computer tech associated with well-known companies like Microsoft or Apple. Other scammers will send pop-up messages to your computer that warn of computer problems. They say they've detected viruses or other malware on your computer. They claim to be "tech-support" and will ask you to give them remote access to your computer. Eventually, they'll diagnose a non-existent problem and ask you to pay for unnecessary- or even harmful- services.
If you get an unexpected pop-up, call, spam email, or other urgent message about problems with your computer, STOP. Do not click any links, do no give control of your computer, and do not send any money.
Equifax Compromise
What was compromised?
143 million American consumers had sensitive personal information exposed. The hackers accessed people's names, Social Security numbers, birth dates, addresses and, in some instances, driver's license numbers. They also stole credit card numbers for about 209,000 people and dispute documents with personal identifying information for about 182,000 people.
Compromise Dates
What is Equifax doing to rectify the issue?
They have engaged a leading, independent cyber security firm to conduct an assessment and provide recommendations on steps that can be taken to help prevent this type of incident from happening again.
What are some recommended precautions for customers?
To determine if your personal information may have been impacted and for steps to protect your information, please visit www.equifaxsecurity2017.com. Click on the "Potential Impact" tab and enter your last name and the last six digits of your Social Security Number. Be sure you are on a secure computer and an encrypted network connection anytime you enter your social security number. The site will tell you if you have been affected by this breach.
U.S. consumers can get a year of free credit monitoring and other services through the above mentioned site. It will give you a date to come back to enroll. On that date, come back to the site and click "Enroll." You have until November 21, 2017 to enroll. Be aware of the arbitration clause and opt out option. Equifax has an arbitration clause buried in the terms of service. The language bars those who enroll in the Equifax checker program from participating in any class-action lawsuits that may arise from the incident.

The CFPB has complained about the arbitration clause and Equifax changed the language to include an opt-out. The provision reads: In order to exclude yourself from the arbitration provision, you must notify Equifax in writing within 30 days of the date that you first accept this Agreement on the Site (for products purchased from Equifax on the Site) you must include your name, address, and Equifax User ID, as well as a clear statement that you do not wish to resolve disputes with Equifax through arbitration.

We recommend that consumers be vigilant in reviewing their account statements and credit reports, and that they immediately report any unauthorized activity to us.

Check your credit report

Consider placing a freeze on your files through the credit bureaus

Monitor existing cards and banks accounts closely
Identity Theft Prevention
Identity theft is a devastating crime that can take many years, a lot of money and a large amount of stress to recover from. Our Identity Theft Prevention video shows you the different ways you may be vulnerable to identity theft, as well as how to take steps to prevent it from happening to you.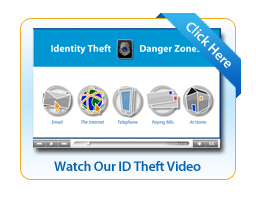 Business Identity Theft Prevention
Identity theft isn't just for individuals, it can also happen at work. Criminals can infiltrate your network and take advantage of you or your employees to take over your business's finances, a process called Corporate Account Takeover (CATO). Our Business ID Theft video shows how to prevent CATO from happening, as does our collection of CATO prevention resources.